UNITED KINGDOM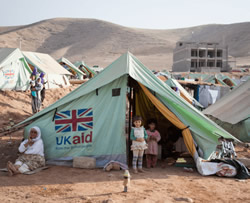 A United Kingdom Government-commissioned review has found that only three out of 10 Departments with sizeable aid budgets are meeting transparency targets around how they spend it.
The Department for International Development (DFID) and the Department for Health and Social Care scored 'very good' on the Aid Transparency Index used by the campaign group, Publish What You Fund, to measure Departments' compliance with the transparency requirements of the Government's 2015 aid strategy.
The Department for Business, Energy and Industrial Strategy landed a 'good' score on the index.
Departments have until the end of this year to meet the transparency targets set out in the 2015 strategy.
The index measures the accessibility of aid data in five areas: Project attributes; results and performance; organisational planning and commitments; finances, and joined-up development.
DFID scored highest of the 10 Departments, which altogether spent £13 billion ($A24.7 billion) in official development assistance in 2018, scoring 86.9 out of 100 for transparency.
It spent three-quarters of the UK's total aid budget in 2018.
By contrast, the Department for Work and Pensions scored just 19.6, marking it 'very poor', and the Department for Education's 37.5 score landed it in the 'poor' category.
Publish What You Fund identified a lack of information available on the results and impact of aid spending. Departments' scores were lowest in the performance data category of the transparency index.
Review author, Alex Tilley said that kind of information was crucial for learning and continual improvement of the efficacy of aid programs.
"It is essential if UK aid is to maintain its world-class reputation and ultimately if we want to make the greatest contribution to alleviating poverty and hitting the Sustainable Development Goals," Mr Tilley said.
London, 16 January 2020