INDIA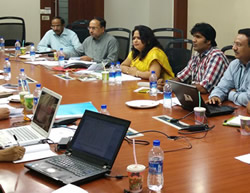 Five Indian Services (Departments) have informed the Government they should be merged, claiming it will produce better governance.
However, sources said the real reason was to "break the hegemony" of the elite Indian Administrative Service, whose members often claimed senior positions within each Service.
The merger suggestion comes less than a month after the Government of Prime Minister, Narendra Modi merged eight Railway Services in a bid to streamline the transport sector.
Organisations involved in this latest move are the Indian Civil Accounts Service, the Indian Postal and Telecom Accounts and Finance Service, the Indian Audit and Accounts Service, the Indian Defence Accounts Service, and the Indian Railway Accounts Service.
The five services said in a letter forwarded to the Department of Personnel and Training that it was redundant to have different accounts services working in different Ministries at a time when the Central Government was pushing the agenda of "minimum Government, maximum governance".
The letter said all the services could either be merged into a new Indian Accounts and Finance Service or combined into the existing Indian Audit and Accounts Service.
Insiders in the Services claimed a unified accounts and finance service would enable members to take up important finance-related positions in the Central Government, challenging the IAS for key roles.
New Delhi, 16 January 2020