UNITED STATES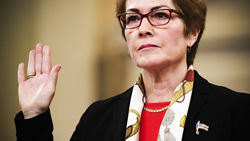 United States Congressional lawmakers have formed a caucus aimed at strengthening support for American diplomats as the Department of State finds itself involved in political battles over the impeachment investigation of President Donald Trump.
The four Members of the House of Representatives — two Democrats and two Republicans — say the caucus will bring together colleagues interested in crafting new legislation to strengthen US diplomatic institutions and showcase bipartisan Congressional support for an embattled diplomatic corp.
One of the founding members, Republican Brian Fitzpatrick said the caucus would provide a stronger voice for diplomats within Congress and help to make the challenges they and their families face a little easier.
Diplomats used to operating behind the scenes have found themselves in a national spotlight as they testified as fact witnesses in bitterly partisan public impeachment hearings.
Some diplomats compelled to testify, including former US Ambassador to Ukraine, Marie Yovanovitch (pictured), were publicly disparaged by President Trump and his allies.
Former Secretary of State under President Bill Clinton, Madeleine Albright welcomed the creation of the caucus.
"With the State Department under attack and in crisis, our diplomatic professionals — both Civil Service and Foreign Service — need to know there is broad support for their mission on Capitol Hill as well as an appreciation for the sacrifices they make in order to keep our country strong and secure," Ms Albright said.
"I hope the Diplomacy Caucus will help reassure them of the support they have."
Washington, 7 December 2019