SOUTH AFRICA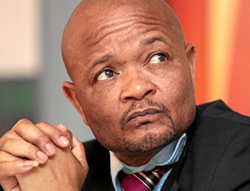 Minister for Public Service and Administration, Senzo Mchunu (pictured) has promised to "leave no stone unturned" to uproot corruption in the South African public sector and the country at large.
"We are so determined to ensure that we fight corruption with all our resources and might," Mr Mchunu said in remarks marking International Anti-Corruption Day (IACD).
"The commemoration of IACD takes place at an appropriate time in our country as we are recommitting ourselves to fighting corruption, which is fast becoming one of the impediments to our march towards consolidating and basking in the glory brought about by democracy in 1994."
According to Transparency International's Corruption Perceptions Index 2018, South Africa scored 43 points out of 100 in terms of public sector corruption, with zero indicating highly corrupt and 100 very clean.
"This is very worrying and necessitates the country to improve its standing globally," Mr Mchunu said.
"There has been an outcry among South Africans that nothing is being done to uproot corruption. As a people-centred Government, we cannot ignore such perceptions."
He assured the public that "a lot is being done and results thereof will soon be visible as most of the investigations currently happening will be put on the court roll".
"Already we are beginning to see some arrests and prosecutions, including that of people holding senior positions in Government," the Minister said.
"Fighting corruption is not an easy task, as those who are beneficiaries are also fighting back and will do anything possible to ensure that they do not account for their actions."
He said that sometimes whistle-blowers were victimised, with some losing their jobs, business contracts and, in certain instances, their lives.
"However, we should not be deterred, but form a united front, working with law enforcement agencies," Mr Mchunu said.
"The reality of the matter is that fighting corruption is one of the most daunting tasks, as it manifests itself in different forms, and therefore entails a dynamic and continuous approach."
Pretoria, 10 December 2019