IRELAND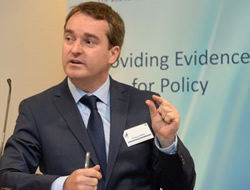 The Secretary General of Ireland's Department of Public Expenditure says he wants the power to pay under-performing Public Servants to quit.
Robert Watt (pictured) told the Oireachtas (Parliament) Finance Committee he would like to be able to "move things on", by reaching settlements with poor performing officers that would see them agree to leave the Public Service.
He said the option was available to managers in the private sector, but it was difficult to deal with under-performance in the public sector.
"We have systems to reward people… but people who don't perform, it's very difficult – it's worth having a debate about it," Mr Watt said.
Asked about his view on the system which allows Members of Parliament to sign in for Parliamentary attendance and then go off and work elsewhere, Mr Watt was unwilling to comment, saying he would "probably be fired" if he did.
"I don't have any views that I'm prepared to share publicly," Mr Watt said when asked about the system that governs Parliamentary procedures.
"The clerk of the Dáil (Parliament) is the accounting officer for that."
Mr Watt said a similar system was in place for dealing with attendance for Public Servants in his Department, which was used to monitor their attendance.
Mr Watt also said politics and public debate had become "quite mean-spirited", with a "gotcha culture" which was making it harder to recruit people to high-ranking positions in the Public Service.
"There is a coarseness to public debate; their motivations are questioned… there's a lack of perspective, a lack of context . . . there's a debasing of politics generally."
Dublin, 6 December 2019