UNITED STATES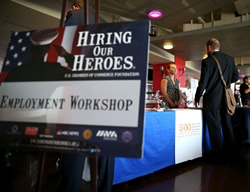 A long-standing entry program to the United States Public Service that gives preference to military veterans has been criticised for harming diversity in the bureaucracy.
The policy, known as Veterans' Preference, has been in existence since the end of the American Civil War in the mid-19th century. It was strengthened following World War I and grew even more entrenched after World War II and in the wake of the wars in Iraq and Afghanistan.
Now Professor of Public Management and Policy at George State University, Gregory Lewis says that while it's good that the nation thanks its troops, the strong preference for veterans is having some negative effects.
He said Veterans' Preference dramatically increases one's chances of getting a Federal job.
"Even though veterans have decreased as a share of the Federal workforce as World War II and Vietnam War veterans have retired, their odds of getting Government jobs have actually increased," Professor Lewis said.
"This very strong preference for veterans ends up hurting groups that are less likely to have military service. Strongly preferring a group that is so male-dominated necessarily disadvantages women."
He said that even today, 89 per cent of veterans are men and most minority groups, apart from black men, are under-represented among veterans.
"My research finds that the Civil Service would be more diverse in the absence of Veterans' Preference, in which case the male-female split in the Federal service would be 50-50 rather than its current 57-43 breakdown," Professor Lewis said.
"The employment of Latinos, Asians and gay men would probably all increase by 20 per cent."
Washington, 22 November, 2019