UNITED KINGDOM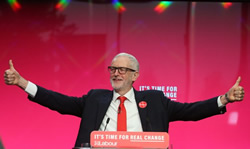 The United Kingdom's Opposition Labour Party has promised to give Public Servants an immediate five per cent pay rise if it wins the General Election on 12 December.
The increase would cover National Health Service (NHS) staff, teachers, the armed forces as well as administrative and policymakers in Whitehall.
Labour Leader, Jeremy Corbyn (pictured) said Public Servants would then get year-on-year above-inflation pay increases to "restore public sector pay to at least pre-financial crisis levels (in real terms)" that they enjoyed before 2008.
"Our most valuable assets are the dedicated people who work in our Public Service, but under this Government their pay has been cut in real terms," Mr Corbyn said.
The new pledge, which is a minimum and would be topped up by further sectoral pay bargaining, would "reward and retain the people who do so much for us all".
Aides to Mr Corbyn said the five per cent rise was aimed at offering relief to millions of workers hit by the one per cent public sector pay cap introduced almost a decade ago.
Labour's election manifesto also promises big increases in the numbers of staff in the public sector, with 24,000 extra nurses and 5,000 extra staff working for the Department of Work and Pensions.
It also vows to make public services more accountable by ending the current legal presumption that favours outsourcing to private firms. It promises to "stop the public getting ripped off by taking back all private sector finance initiative contracts over time".
General Secretary of the Public and Commercial Services Union (PCS), Mark Serwotka said he welcomed the commitment "after nearly a decade of a punishing Tory pay cap which has left many PCS members struggling on low pay and claiming benefits".
Chief Executive of the NHS Nuffield Trust, Nigel Edwards said increasing NHS funding and paying public sector staff more would mean the health service could "breathe a sigh of relief" after a decade of austerity.
In contrast, there is little comfort for Public Servants in the Conservative manifesto which promises new regulations allowing public sector employers to claw back redundancy payments when "high-paid Public Servants move between jobs".
The proposals do not specify the level at which this would claw-back would be set.
"This is an agenda which shows that the days of Whitehall knows best are over," the manifesto says.
However, there were promises to hire more police and increase spending on schools.
London, 26 November, 2019