NORTHERN IRELAND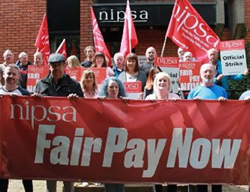 Public Servants in Northern Ireland have demonstrated against an awards ceremony for their own members as anger over prolonged pay restraints mounts.
A snap one-hour strike was followed by the evening demonstration and a call to boycott the awards bash held at Stormont Castle. Officers said they wanted pay rises rather than prizes.
Northern Ireland's largest trade union, the Northern Ireland Public Service Alliance (NIPSA) said the actions were "a gesture" to make a point on wages.
Deputy General Secretary of NIPSA, Carmel Gates said the demonstration was being held a day after the November pay day "a reminder for people how little their pay has increased in the last 10 years".
"The Northern Ireland Civil Service Awards, as it's called, is a ceremony that happens on a yearly basis where senior Civil Servants dress up in their finery and present awards to staff," Mrs Gates said.
"Normally they are for staff who have been nominated either by colleagues or by line managers for providing a good service, but this year, because people are in dispute over pay, many essentially feel if the management side really cared about rewarding staff then they would pay them a fair amount of money."
She said the ceremony was a "slap in the face" as it was held despite the stand-off over pay.
A Department of Finance spokesperson said the awards recognised, celebrated and promoted the service, dedication and achievements of staff at all grades right across the Public Service.
"Over 500 award nominations were received for this year's awards with the vast majority of nominations coming from staff below Senior Civil Service level," the spokesman said.
In a related development, members of Unison – representing the Province's health workers – have announced the start of industrial action over pay and staffing levels.
Unison represents about 25,000 healthcare workers including nurses, social care staff, support services, but not doctors.
Permanent Secretary at the Department of Health, Richard Pengelly said the Department "did everything in its power to prevent industrial action", including a pay offer which would have added 2.1 per cent to the wage bill.
Belfast, 26 November, 2019