FRANCE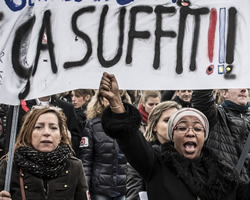 France's Public Service unions have announced a general strike to take place on 5 December in protest against the Government's pension reform plans.
Railway and public transport workers, airport employees, postal workers and Public Service administrative and policy staff are among those expected to answer calls for the one-day protest with the most militant – the railway union – saying action could continue in the run-up to Christmas.
Secretary of State for Transport, Jean-Baptiste Djebbari said he expected the strike to be "very well attended, and we must take preventive measures upstream".
Air travellers have been warned that they could experience delays or cancelled flights at numerous airports across the country on 5 December, as Air France air and ground crews join the strike.
The General Confederation of Labour's (CGT's) Public Service arm has called on its members to use the protest as a building block to construct an indefinite rolling protest against the reforms.
Postal workers are also expected to add their weight to the protests. La Poste is going through a reorganisation process and has been affected by strikes for several weeks.
"Working conditions and the protection of public services are subjects that are part of the debate," the CGT said in a statement.
The Ministry of Education said that it has not received notice of strike action. However, the teachers union is critical of a future pension system that penalises "teachers who receive few allowances and bonuses".
Paris, 21 November, 2019