UNITED STATES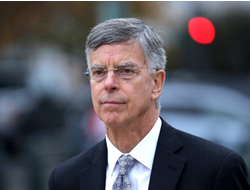 US career diplomats have expressed fear they could face retaliation from the White House if they are asked to give testimony in the impeachment inquiry into President, Donald Trump.
The lower-level PS employees who work on issues related to Ukraine normally operate outside the spotlight, but are now caught between high-profile partisan battles in Congress, an angry President and their boss at the Department of State, Mike Pompeo.
Mr Pompeo has drawn criticism for not doing enough to publicly support the diplomats already caught in the crossfire.
Several current PS employees described an atmosphere of fear and trepidation in the Department's bureau that oversees work on Ukraine policy.
"I would hope that [retaliation] would not happen," one said.
"I would hope that that's an unlikely circumstance, but we've never found ourselves in a situation like this."
This came after the White House issued a scathing rebuke of testimony from the top US diplomat in Ukraine, William Taylor (pictured), in which it described "a coordinated smear campaign from far-left lawmakers and radical unelected bureaucrats waging war on the Constitution".
Mr Taylor, who served as former President George W. Bush's Ambassador to Ukraine from 2006 to 2009, gave testimony of how Mr Trump pressured the Ukrainian Government to investigate one of his potential Democratic presidential rivals, former Vice-President Joe Biden, by withholding military aid for the country.
As the inquiry continues, with more depositions expected, career diplomats fear they will have no protection from senior levels of the Department or the White House if they are called in to testify.
Mr Taylor was recalled from retirement to serve as acting Ambassador in Kiev after Mr Trump removed the previous Ambassador, Marie Yovanovitch, from her post.
Ms Yovanovitch testified that she was fired after "unfounded and false claims by people with clearly questionable motives", citing Mr Trump's personal lawyer, Rudy Giuliani.
Washington, DC, 28 October 2019