CHINA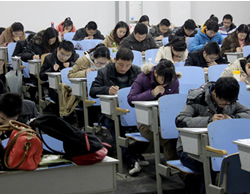 An analysis of successful applicants to the Chinese Public Service examinations shows that in at least one case more than 1,000 people are competing for the same position.
The Chinese State Administration of Civil Service has announced that approximately 600,000 people have passed the qualification check for the examinations, registrations for which have now closed.
The popular job is with the Chinese National Archives Administration, with 1,109 people seeking the single position.
Only slightly less popular are positions with the Second History Archives and the Chinese Administration for Market Regulation.
In contrast, some positions, often requiring work in remote Provinces, have not received any applications.
President of Huatu.com, an Agency providing Public Service examination-related services, Li Manqing said that some of these less popular positions were not bad options for anyone ready to work at developing their career.
"Rooted in the grassroots level and with a positive attitude, it is possible to do something significant," Mr Li said.
Meanwhile, the Government has announced that people blacklisted for poor credit or those expelled from the Communist Party of China would not be allowed to take the examination.
It is the first time people on credit blacklists have been excluded and is seen as an attempt to mitigate the risk of corruption among new officers.
There are around 24,000 Public Service vacancies in 86 Central Agencies and 23 subsidiary institutions.
Beijing, 23 October 2019