By John Rozentals.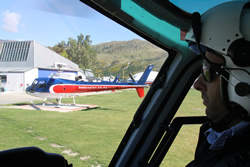 The conditions at Queenstown Airport are mild, sunny and near-still.
More importantly they continue that way to the east to New Zealand's Southern Alps (Ka Tiritiri o te Moana), whereas yesterday's obligatory phone call had told The Helicopter Line a completely different story and forced my planned flight to be cancelled.
Pilot Callum Fisher is in total control, and my desire for him to fly a bit higher is the result of an increased scaredy-cat attitude gained with age rather then of any misgiving about his style.
Anyway, he is well ready for his best spot of flying in weeks. Which is just as well, because I am booked into a five-course dinner that evening hosted by Taittinger Champagne at The Rees Hotel's flash True South dining room.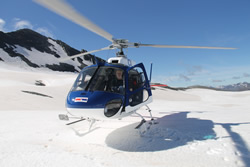 We're soon clear of the green hills that give Queenstown a perversely Irish look, and shortly into a craggy mix of steely-blue and white that clearly differentiates the landscape from the rolling, dusty but very fertile hills of the Central-West of NSW where I now live.
It is magnificent, truly strikingly magnificent … and offering the sort of exhilaration that demands experience at least once on any lifetime to fully appreciate.
We pass sheer stone walls, vestiges of icy snow that will probably outlast summer, cascading waterfalls fed by snow that has succumbed, and glassy, no doubt chilly, substantial bodies of water, such as Lake Lochnager.
Are they the tarns I learnt about in school geography so many years ago, or some completely different quirk of nature?
Then we come to out first glacier.
It's a piddly affair, and dismissed by Callum: "We'll find something worth landing on."
We fly over several more glaciers within Mount Aspire National Park, before settling on Tyndall Glacier for our landing on real snow.
Callum helps the others in the group to dismount the chopper, to frolic in the snow and to take photos.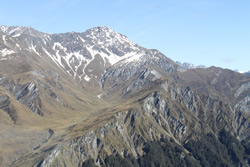 I wisely choose to act my age and take some pix from the more secure possie in my fronr-row copter seat, befitting someone in the early stages of parkinson's. Even from there, it's a memorable experience.
On our way back we trace the path of the Shotover River, famously the site of activities such as jetboating and bungy jumping, activities which heralded the birth of Queenstown as a world adventure-tourism hotspot.
Then we land in the airport from which we took off. It's all finished too soon, but there's a champagne dinner on the cards … and that's well worth waiting for, especially to see how The Rees's new young Executive Chef, Corey Hume, handles a formidable task.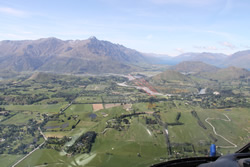 The Helicopter Line also has bases at Tekapo, Mt Cook, Franz Josef Glacier and Fox Glacier.
Prices range upwards from $195 per person for a 20-minute 'Pilot's Choice Special' from Queenstown.
Many of the longer adventures, such as the 50-minute 'Southern Glacier Experience', which I'm on,  include hotel pick-up and drop-off in the $615-per-person charge.
Included also is headphone-assisted commentary and muscly assitance on and off the copter, and the trips are very suitable for at least the partially disabled.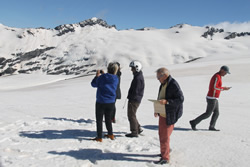 The Helicopter Line, Lucas Place, Queenstown Airport, Queenstown, New Zealand; phone +64 3 442 3034; visit www.helicopter.co.nz.
The Rees Hotel, 377 Frankston Rd, Queenstown, New Zealand; phone +64 3 450 1100; visit www.therees.co.nz.