Reviewed by Rama Gaind.
Director: Michael Chaves, Roadshow Entertainment.
Cast: Linda Cardellini, Patricia Velásquez, Raymond Cruz, Sean Patrick Thomas.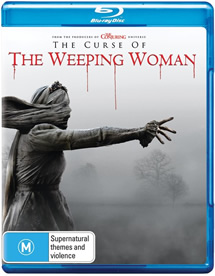 Even with horror supernatural themes and violence, this story shows the lengths to which a mother will go to protect her children.
Written by Mikki Daughtry and Tobias Iaconis, producer James Wan (The Conjuring) unleashes a nightmare figure from Mexican folklore – La Llorona, also known as the Weeping Woman. The jump-scare formula is intact.
It's the directorial debut for Chaves and is the sixth installment in the Conjuring Universe franchise. It follows a mother, Anna Tate-Garcia (Cardellini) in 1973 Los Angeles who must save her children from a malevolent spirit who is trying to steal them away. They are drawn into a frightening supernatural realm.
The legend tells of a jilted wife who drowned her children and herself in a fit of madness and jealousy and was cursed to walk the earth forever, seeking children to replace her lost loved ones.
The timeless Hispanic legend comes to terrifying life! She is The Weeping Woman and those who hear her death call in the night are doomed. She creeps in the shadows and preys on the children, desperate to replace her own.
A horrifying apparition, caught between heaven and hell, trapped in a terrible fate sealed by her own hand. The mere mention of her name has struck terror around the world for generations.
Their only hope to survive La Llorona's deadly wrath may be a disillusioned priest and the mysticism he practises to keep evil at bay, on the fringes where fear and faith crash.