Reviewed by Rama Gaind.
Director: Roger Kumble, Netflix.
Cast: Christina Milian, Adam Demos, Jeffrey Bowyer-Chapman.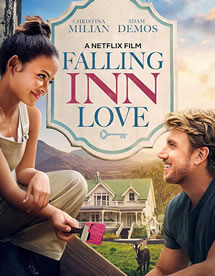 A cheesy twist on words, this film's title gives away not only the venue, but the basis of the story. The romantic-comedy is clichéd, but it all fits together well in the package.
Falling Inn Love sees romance and house re-modelling collide when a San Francisco corporate executive Gabriela Diaz (Milian) wins a New Zealand inn that's appealing in all the advertisements.
Actually, this happened after she wrote an essay to enter a competition. Being passionate about environmentally friendly homes, it doesn't take her long to submit the 400-word entry.
She ditches city life and thousands of airline miles later, she discovers that The Bellbird Valley Farm boasts a crumbling facade and there's a meddling neighbour who covets the space.
It's not long before Gabriela realises that everything is not what it appeared to be at first. The inn is anything but robust and it had seen better days. There's a goat named Gilbert hiding in the closet, the light bulbs explode … essentially … the property needs a lot of TLC to get it back to his former glory. The promotional marketing was done on false pretences.
She then decides to remodel it and flip the rustic property with help from a handsome contractor Jake Taylor (Demos) — whom she avoids after first bumping into him.
As it happens, the first local who literally comes to her aid was Jake, who crashed his truck into Gabriela's luggage as it rolled down a hill. Not being successful in getting a signal for her phone, his offer of a helping hand was turned down. It soon comes out that he's a handyman, a volunteer firefighter and also a beekeeper.
Support comes from locals including a gardener Shelley (Claire Chitham), who has her own unaddressed problems with relationships and a hardware store guy named Norman (William Walker). There's a resistance, at first, about taking help from Jake in order to assert her independence. However, once the chemistry works between Gabriela and Jake, the story starts to brighten up. Capably directed by Kumble, this is an impressively mechanical distraction that possesses its truism, for the most part. This one shimmers.