Reviewed by Rama Gaind.
Director: Luke Snellin, Netflix.
Cast: Isabela Moner, Shameik Moore, Odeya Rush, Liv Hewson, Mitchell Hope.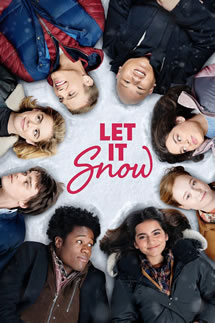 The festive season is almost upon us — and there's nothing like a white Christmas!
For a group of high school students in a small mid-western town, nothing will be the same on Christmas morning. After a snowstorm hits, the group comes together and soon find their friendships and love lives are set on a collision course.
The likeable cast ensures that this celluloid gift is worth unwrapping as we follow this crowd of seniors on a snowy Christmas Eve. Each has a cavity that needs filling or limitations that certainly need to be tackled.
Adapted from the book by John Green, Maureen Johnson and Lauren Myracle, director Snellin's Let It Snow finds warmth in the characters and purpose, a dusting of holiday benefits and just a little personality to spread some joyful tidings.
The reclusive Julie (Isabela Moner, now officially Isabela Merced, Transformers: The Last Knight, Dora and the Lost City of Gold) hangs out with a famous, secretly lonely pop star named Stewart (Moore, Rick Famuyiwa's Dope) and minimises what others would consider a 'fantasy day' with him.
The charm oozes as we watch and spend a lot of time asking, 'where have I seen this actor before?' There's Tobin (Hope, Descendants franchise); Angie (Kiernan Shipka, Mad Men, Sabrina); Keon (Jacob Batalon, Spider-Man: Homecoming); Kira (D'Arcy Carden, The Good Place); Dorrie (Liv Hewson, Santa Clarita Diet); and Addie (Rush, The Giver, Goosebumps). Joan Cusack (Working Girl, Grosse Pointe Blank) plays the role of Tin Foil Woman.
The plot is light-on, though well-balanced, and not much of a surprise, but the script, from British comic Laura Solon (Office Christmas Party), writer Victoria Strouse (Finding Dory) and Kay Cannon (Pitch Perfect) sprinkles the obviousness with conviviality and humour.
The young cast, in particular, display a chemistry that is pleasing.