Reviewed by Rama Gaind.
Writer/director: S. Craig Zahler, Icon Film Distribution.
Cast: Mel Gibson, Vince Vaughn, Don Johnson, Tory Kittles, Michael Jai White, Jennifer Carpenter, Laurie Holden.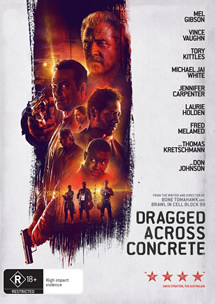 Seasoned veteran, Gibson does some of his best work as Brett Ridgeman in this tactile R-rated film. Continuously glowering, Ridgeman — a cop on the brink of his 60th birthday — shows his true colours in the opening scene. His collaboration with partner Anthony Lurasetti (Vaughn) involves them working on a drug bust.
Ridgeman gets a little rough and is a little racist, which doesn't auger well for the partners. At the start, these two cops handcuff a Latino drug runner to a fire escape by his ankle — but not before smashing his face into the stairwell grate with their heavy boots. They then harass his girlfriend, who gives up a bag of money.
However, since a neighbour has filmed their bad behaviour, it results in their suspension. It also leads to a potentially flammable scene in which Gibson, Vaughn and their chief Lt. Calvert (Johnson) discuss the political correctness that saturates the world.  This is not the first time their comments have landed them both in hot water. They've been to Calvert's office a few too many times before.
Ridgeman is keen to point out "politics gets in the way of good, solid police work". Both are concerned about how they're going to make ends meet after being suspended for six weeks. They turn their sights on their right to acquire proper compensation because "our ways don't reflect what we do". They lose their perspective.
At a stealthy pace, the police partners then descend into the criminal underworld.
They both have commitments. Lurasetti wants to propose to his girlfriend, who doesn't love the prospect of being a policeman's wife due to his pay cheque.
On the other hand, Ridgeman's ex-cop wife Melanie (Holden) is living with multiple sclerosis, and a daughter who keeps getting taunted by black residents in their predominantly black neighborhood.
Zahler's (Brawl in Cell Block 99, Puppet Master: The Littlest Reich) film highlights the lengths to which a man will go because he's tired of playing by the rules. He feels cheated and goes to extreme lengths to correct the bad hand that he's been dealt.
Ridgeman believes that he's at a point where stopping the drug trade doesn't matter as much as doing it in a politically correct way. He then gets a tip about a money exchange that he can rob, which means retirement and moving his family to a safer neighbourhood.
Fate, however, has other plans for them.