Reviewed by Rama Gaind.
Directors: David M. Barrett, Kellie Cyrus, John Behring, Robert Harmon, Peter Werner, Eric Laneuville, Alex Zakrzewski, Alex Chapple, Jane Raab, P.J. Pesce, Ralph Hemecker, Universal Sony Pictures Home Entertainment.
Cast: Tom Selleck, Donnie Wahlberg, Bridget Moynahan, Will Estes, Len Cariou, Amy Carlson, Sami Gayle, Jennifer Esposito, Marisa Ramirez, Vanessa Ray.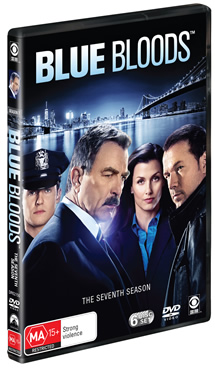 There's something engaging about a cop show with the word blue in its title. Remember Shades of Blue, NYPD Blue, Hill St Blues and Rookie Blue. All are great television cop dramas.
However, Blue Bloods has the advantage. It's been strong from the first episode. It has all the right ingredients to make sure that the streets of New York are safer if such units actually existed. Each character, starting at the top with the NYC Police Commissioner Frank Reagan, is exceedingly street smart and people-focused. Every single character is well versed, a stickler for duty, doing the right thing, being compassionate and yet still exceedingly street-smart.
Against a realistic backdrop, the storylines are extraordinary. The script is remarkable, the sets convincing enough to make you think you are part of the what's unfolding. The direction uplifts (even including some confronting situations), the action is plausible, but even more so, the acting is realistic across the main cast.
Remembered for his roles in both Jesse Stone and Magnum P.I., Selleck is a solid, dependable character. He's the Reagan family patriarch who gives respect and admiration to his father, Henry (Cariou), who is a retired police commissioner. The four-generation dynamics is incredible and inspiring.
Frank is fair, making the right decisions no matter what happens at One Police Plaza, the precinct or at home. He leads with a non-nonsense firm hand, but also with a distinctive sense of the accurate action and a benevolence that is astonishing. He cares about everyone and just about everyone respects him with the exception, that is, of the mayor.
Wahlberg plays Frank's oldest son Danny, a veteran of the Iraqi War. A seasoned NYPD detective, Danny is known for occasionally using some suspect tactics when solving a case. However, his tough exterior reveals a sensitive man who loves his family. Carlson is his attractive ER nurse Linda (Carlson), and together they have two sons, Sean and Jack, played by two real-life brothers, Andrew and Tony Terraciano.
What many may not know is that he's also a member of the popular boy band, New Kids on the Block and brother to actor Mark.
Frank's grown daughter Erin is the Assistant District Attorney, played adroitly by Moynahan: tough, but fair. Divorced, with a teenage daughter nicknamed Nicky, sensibly played by Gayle. She really gets to show off that talent in one specific episode after she's kidnapped by a crazy serial killer.
The Reagans are a multi-generational cop family. Frank's younger son, Jamie (Estes) graduated from Harvard Law, but decided to follow the family police service tradition. Even the supporting cast and guest stars leave lasting impressions.
In the first episode 'The Greater Good', Danny's world is rocked when Robert Lewis (Michael Imperioli) in the Attorney General's office obtains new evidence against him in the self-defence shooting case of serial killer Thomas Wilder (Louis Cancelmi).
In 'The Price of Justice', Danny and partner Marisa Baez (Ramirez) are determined to get justice for a traumatised young woman, Emily Harrison, who was held hostage and raped, despite her resistance to press charges.
Other episodes of note include 'Guilt by Association', 'Personal Business', 'Foreign Interference' and 'Love Lost'. Danny and Baez work together to bring down a drug cartel in 'The Thin Blue Line'.
The Tenth Season also sounds promising.