Reviewed by Rama Gaind.
Director/co-writer: Saverio Costanzo, Via Vision Entertainment.
Cast: Elisa Del Genio, Ludovica Nasti, Margherita Mazzucco, Gaia Girace.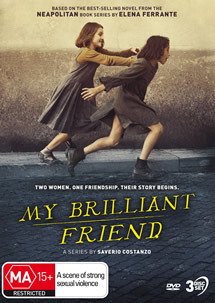 Based on thebest-selling novel from the Neapolitan book series by Elena Ferrante, My Brillant Friendis a modern masterpiece — vivid, powerful — a narrative of a friendship and the story of a nation.
It weaves a complicated tapestry of camaraderie, the chronicle of two girls growing up in Naples, Italy, during the 20th century. Childhood friends Elena Greco and Raffaella Cerullo grow up poor, surrounded by violence and strife, but that doesn't dampen the power of their relationship.
When the most important friend in her life seems to have disappeared without a trace, Elena, a now elderly woman immersed in a house full of books, turns on her computer and starts writing the story of their friendship and competitiveness. She shares the ups-and-downs of her closeness with Lila, which defined a lifetime.
She met Raffaella, whom she has always called Lila, in the first year of primary school in 1950. Set in a dangerous and fascinating Naples, their companionship begins and goes on to cover over 60 years of their lives as she tries to describe the mystery of Lila, her brilliant friend and – in a way – her best friend, and her worst enemy.
One of Italy's most acclaimed authors, Ferrante specifically chose Costanzo to direct and help adapt the novels for the small screen. The series (in Italian with English subtitles) dramatises the novel without altering it. Costanzo and the is the non-professional cast do justice to Ferrante's radical vision of post-war Naples. Writing credits for the eight episodes go to Costanzo, Ferrante, Laura Paolucci and Francesco Piccolo.
The show is engrossing and surprisingly well cast. The actors who play Elena and Lila — Genio and Nasti, as children, and Mazzucco and Girace, as teenagers — are untrained performers. Their impulsiveness feels therapeutic.
The essence of the women you read about in the book are well-captured and brought to life on the screen. Ferrante's written world emotionally comes to life. Elena has vulnerability, while Lila is almost aggressively challenging.
A generous-hearted story, it's a meticulous portrait of the two women with a touching contemplation on the nature of friendship. Interlaced through the lives of these two women, the story unfolds about a neighbourhood, a city and a country as it is transformed in ways that, in turn, also transform the relationship between the main protagonists.
PS Newshas three-disc DVD sets of My Brilliant Friendto give away to three lucky readers. All you have to do to be a winner is answer this simple question: who wrote the first in the series of Neapolitan novels that explore the complicated intensity of female friendship? Entries should be sent to [email protected]by Monday, 11 November 2019. Names of the winners will be announced in Frank Cassidy's PS-sssst…! column on 12 November 2019.