Reviewed by Rama Gaind.
Directors: Vincent Misiano, Peter Werner, Dan Lerner, Peter Werner, Laura Belsey, Alex Pillai, Leslie Libman, Mike Smith, Dennis Smith, Aaron Lipstadt, Ed Ornelas, Nina Lopez-Corrado, Bethany Rooney, Alrick Riley, Universal Sony Pictures Home Entertainment.
Cast: Michael Weatherly, Freddy Rodriguez, Geneva Carr, Jamie Lee Kirchner, Annabella Attanasio, Chris Jackson, Dana Delany, Emily Tremaine.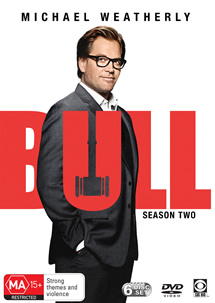 Weatherly is theprotagonist Dr Jason Bull, the self-assured founder of the successful trial consulting firm, Trial Analysis Corporation. He and his team of experts utilise psychology, human intuition and high-tech data so they can understand jurors, lawyers, witnesses and defendants, before constructing effective narratives so their clients can win. Bull's team include his brother-in-law Benny, neurolinguistics expert Marissa, former detective Danny, hacker Cable and Chunk, who helps perfect clients' appearances for trial.
All 22 episodes have absorbing storylines, with intricate legal techniques that leave you spellbound!
'School for Scandal' opens the season when Kara Clayton (Minka Kelly) is charged with murder after killing her billionaire older husband Marcus (Ronald Guttman). He refused to revise the terms of their pre-nuptial agreement. Bull represents Marcus' interests in the case. Unable to find the perfect juror to serve as foreperson, Bull has to out-manoeuvre proceedings to avoid a hung jury. The team must now find bulletproof evidence to win over a biased juror.
In 'Already Gone' Bull impulsively agrees to have Benny represent Adam Harris (Sam Vartholomeos), a young man charged with murder for helping his terminally ill girlfriend end her life. He learns that Adam's actions clash with Benny's religious beliefs.
In 'The Illusion of Control' famous actress Amaya Andrews (Cara Buono) sues Bull over advice he gave her regarding an international adoption. Marissa is subpoenaed as a witness for the prosecution, and things become complicated when Bull's lawyer Ron Getman (Brad Garrett) wants to reference Marissa's painful childhood during cross examination, despite Bull's objections.
'Absolution' is a personal case for Bull. Derrick Graham (Adam David Thompson), who has spent the last nine years in prison for murdering a woman he met in a bar while celebrating a promotion with his work friends, is exonerated by Bull.
In episode 20 Bull takes on a case where justification for a crime is not easy to prove. Kate Martin is an abused wife, who shoots her English professor husband in the back while he sleeps. Bull opts for an all-or-nothing defence, Murder 1 or acquittal, with no lesser charges being considered.
In 'Reckless' Bull gets arrested for public mischief after receiving news that his ex-wife Izzy is getting remarried. While in jail awaiting bail, Bull meets a mute man who is kind to him. After being released, Bull learns that the man is Elliott Miles, the prime suspect in a rape-murder-arson case. He takes Miles' risky case and begins annoying his team with his tunnel vision.
The scenario continues in the last episode, titled 'Death Sentence'. Elliott Miles is convicted of murder and faces a possible death sentence. New evidence arises pointing to the crime being committed by a serial killer. Bull is relieved when the prosecutor asks the judge to drop all charges against Miles. Then there's an emergency on the courthouse steps … and the cliffhanger ending sees Bull
dialling 9-1-1.