Reviewed by Ian Phillips.
By Selena Gomez, Universal Music 2020.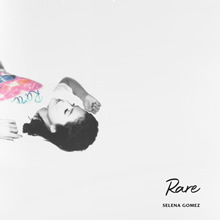 Rare is the third solo album from former Disney star, Selena Gomez and the first since her well-received 2015 release, Revival – the album that caused a stir with its revealing cover art that portrayed her nearly naked.
This time the cover art is far more subdued and the emphasis is instead on expanded musical horizons.
Selena has undergone many challenges over the last few years as she struggled with anxiety, depression and serious illness.
In 2017 she underwent a kidney transplant due to complications from the autoimmune disease lupus and the experiences of the last few years, and enforced layoff to recover, has been put to creative use providing the lyric material for this album.
Musically and lyrically the album is a development of the journey begun in Revival.
The self-analysis and honesty that characterised Revival has been taken to the next level in Rare.
The ballad Lose You To Love Me is a case in point, as she opens up about a relationship that so stifled her that she reached the point where she had to end it to rediscover herself.
Lose You To Love Me became Gomez's first #1 Billboard hit.
The songs on Rare chronicle a young woman undergoing challenges. But it also celebrates autonomy and resilience and, musically, the album is mostly upbeat.
Rare is still musically a pop/dance album, but it also incorporates many different musical genres including Latin rhythms in the song Ring and some funk in Cut You Off.
Critics have been quick to label this album as Selena's best effort to date. I agree that it is probably a more complete album than Revival, but the two albums share the same DNA.
It will be interesting to see where the next step in Selena Gomez's journey will take her.