Reviewed by Ian Phillips.
By Harry Styles, Sony Music Australia 2019.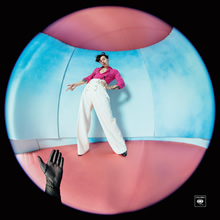 I usually select music to review based on prior knowledge of the artist.
Sometimes it's through recommendation and at other times it's via whimsey.
In this case, the cover art attracted me.
Fine Line is the first music I've heard from Harry Styles and I like what I'm hearing.
Harry Styles started as a member of boy band One Direction and after their indefinite hiatus in 2016, he went solo, signing with Columbia Records.
His self-titled debut album released in 2017 topped the charts in 14 countries and Fine Line is the follow-up.
The first single from Fine Line, Lights Up, debuted at #3 in the UK singles chart and it was quickly followed by Watermelon Sugar and Adore You, which peaked at 17 and 7 respectively.
When the album was released it immediately shot up to #3 on the UK albums chart, which suggests that Harry has captured the imagination of the listening public.
Musically, Fine Line is pure pop and thus a development of his work with One Direction.
There are traces of a variety of musical influences in his work, particularly of soft rock/country rock and possibly even a little folk and 60s nostalgia. However you describe it, Fine Line falls into the easy listening category.
There is enough good material in this album to suggest the promise of a lot to come from Harry Styles.
Harry has a very good voice and, in many ways, he reminds me of Justin Timberlake.
I note that he claims the late great Harry Nilsson as one of his influences amongst a diverse group of musicians ranging from Shania Twain to Pink Floyd, The Beatles and Freddie Mercury.
If he turns out to be half as good as any of these role models, then he's in for a long and successful career.
Harry Styles has also embarked upon an acting career that included a role in the Christopher Nolan movie Dunkirk and he has become a regular on UK TV shows such as The Late Show with James Corden.
All this suggests that Harry Styles' star is on the rise.