Reviewed by Ian Phillips.
By Mac Miller, Warner Records 2020.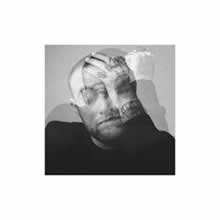 The untimely death of American rapper/singer Mac Miller from an accidental drug overdose has robbed us of an artist that had just started to show the promise that many had expected of him.
I first became aware of him through the release of his 2018 Grammy-nominated album Swimming, which was one of the best releases of that year.
Not necessarily being a rap fan, it takes something special for me to sit up and take notice and Mac Miller had that special something.
What I liked about that album was the mix of his laid-back singing style mixed with rapping that was delivered with precision, making the words intelligible. And his lyrics were good…very good.
Unfortunately, the release of Swimming coincided with the announcement of his death and now Mac Miller's family has released Circles, Mac's sixth and final studio album.
The first single from the album, Good News, has already started charting.
Apparently, Mac conceived this album as a sister album to Swimming and the tracks were already recorded with post-production underway when he died.
Circles was completed with the assistance of producer Jon Brion, who worked on Swimming and was also working with Mac on the follow-up.
While Circles is a companion piece to Swimming, it's also sonically different.
Circles has Mac spending more time singing in his beautifully-understated husky tones than he does rapping and I think the mix is better.
The fact that the rap is sparse really emphasises it – giving credence to the adage of "less being more".
Miller's singing style also emphasises his intricate musical accompaniment.
He really was a clever musician. The music press has been effusive with their praise:
"His talent was appreciated but he wasn't recognised as the polymath genius we now know him as… a brilliance now acknowledged by rap heads and scene kids alike, and one made particularly obvious by this inspired final transmission. " – Billboard.