Reviewed by Ian Phillips.
By Bruce Springsteen, Sony Music 2019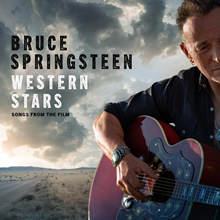 Bruce Springsteen released his 19th studio album, Western Stars, earlier this year and I reviewed it for PS News, stating that it presented a new direction for Bruce, with orchestration for backing rather than the traditional E Street band sound.
Springsteen made it known that he wouldn't be touring the album. Instead, he opted to produce a feature-length film as a way of bringing the live experience to his millions of fans around the world.
In the atmospheric surroundings of an old barn, Springsteen – along with his wife Patti Scialfa, a small orchestra, and a handful of accompanying musicians – perform the entire album live, intercut with vignettes in which he reflects on the songs and ruminates on the loves, challenges and regrets he has faced in his life.
Bruce Springsteen's songs have always lent themselves to being turned into film. They take the listener on a journey – they're little narratives that contain all the elements of perfectly-formed short stories.
They contain characterisation and plot structure. It's a songwriting technique that he has mastered. We have a master songwriter of our own exploring similar territory in Paul Kelly.
It would have been wonderful to have been a member of the select live audience for these recordings. The surroundings, intimacy and magnificence of the playing would be an amazingly emotional experience.
If you bought the studio album release, the only additional track this record provides is Springsteen's take on Glen Campbell's Rhinestone Cowboy.
If you didn't get the earlier album, then I think this album is a better option. There's something quite magical about live performances.
Dyed-in-the-wool Springsteen fans will want both of them