Reviewed by Ian Phillips.
By Griff, Warner music 2019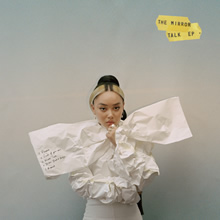 Griff is the latest young pop starlet to be lauded as "pop's new bright star" on the back of this, her debut EP.
Born to Chinese and Jamaican parents just outside Watford, England, Griff was brought up alongside two brothers and the family's foster children (they have taken in 15 kids in total).
In Griff's own words her unusual childhood "teaches you something about selfless love."
She said that she found some quiet time by borrowing her brother's Logic and teaching herself how to make music.
Her songwriting was something she did in secret. Indeed, the first time her classmates (Griff has just finished her final exams) knew anything about her musical bedroom pursuits was when Annie Mac – one of the UK's most powerful radio DJs – started playing her single, Mirror Talk.
Griff has done the lot on her debut EP. She's written, recorded and produced all the songs and it seems Warner Music has had the foresight to leave well enough alone.
So far, the five-track EP has yielded three singles: Mirror Talk, Sound of Your Voice and Didn't Break it Enough and all of them are charting well.
The subject matter of Griff's songs reflect the predominant hopes, desires, and concerns of teenage years.
The songs address her generation's anxieties in lyrics that are set against a spacious spiderweb of beats and synthesised melodies.
I suspect that most of what we hear was produced in her bedroom. Indeed, her music has already been labelled 'bedroom pop.'
It makes no difference where it was produced, for the critics have already anointed her as the next big thing.
Writer, producer, stylist, designer and creative director, it's clear that Griff is a force to be reckoned with – Vogue
Startlingly good… her alt R&B smarts come through – Sunday Times