Reviewed by Ian Phillips.
By Miranda Lambert, Sony Music 2019.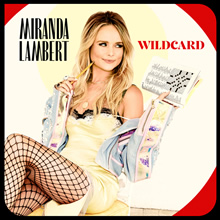 Wildcard is Miranda Lambert's seventh album and it's sure to please her legion of fans around the world.
Lambert combines mainstream American country with a good dollop of sassy pop better than many and it probably comes down to her clever songwriting.
Her songs often contain wry observations about life and on this album I suspect they're mostly her own white and middle-class experiences.
There's a nod to hard living and hard drinking themes, but you get the feeling that it's all pretend because it's just a bit too quick-witted and cheeky. The song Way Too Pretty For Prison is an example in point.
It's all a bit Hollywood.
The hell-raising high point of the album is the track Locomotive which is a straight-out country/rock belter. She's got the voice and swagger for it, with more than a nod to Joan Jet and Suzie Quatro.
I've commented before that Miranda surrounds herself with some impressive musicians. They move effortlessly from the frantic energy ofLocomotive to the gentle country balladry of tracks like Bluebird, How Dare You and Fire Escape.
Miranda has a way with words and she also has the ability to write a really catchy tune.
Good songwriters are gifted with the ability to combine the two strands of words and music. Masters do this while providing important insights into our existence.
While Miranda's songs are clever I don't find them insightful and memorable.
Wildcard is warm and pleasant and contains some beautiful musicianship which was probably what she set out to do.
Miranda's mix of mainstream country/rock and pop is easy listening at its best. Even non country music fans will enjoy it.