Reviewed by Ian Phillips.
By Saint Motel, Elektra/Atlantic 2019.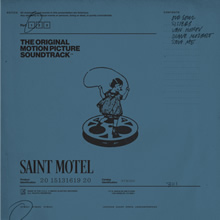 Los Angeles-based Saint Motelformed while the members were attending film school, which goes some way to explaining their approach to music and the title of this album.
The album was written by their front man, A/J Jackson Jnr and was co-produced by Jackson and Grammy winner, Mark Needham.
The album is being released in three parts over the next few months. As I've mentioned before, this is a technique that is being adopted more and more these days because it offers media coverage over an extended period and increases the opportunity for multiple sales.
The Original Motion Picture Soundtrack Part 1is modelled on a three-act movie and the three separate parts eventually combine to form a single album.
The five tracks in Part 1 cover a variety of musical styles from the 60s pop-influenced, Sisters to the surf/rock tinged guitars of single Van Hornand the wonderful anthem-like chorus of the final cut Save Me.
Being from film school, I was expecting a more cinematic, ambient sound rather than the pop on this EP, but one thing I can say is that there is certainly variety in their approach.
The track Diane Mozartstarts with a piano arpeggio worthy of the inspiration in the title, and the final track Save Me(probably the best on the disc) should be the next single.
Saint Motel gained breakout success with their debut EP, My Type,which was released in 2015.
The title track from that particular EP climbed into the Top 10 on US Alternative radio charts, eventually reaching Gold Record status. The following year the band returned with their first full-length album,saintmotelvisionwhich featured the hit single Move.  So, there has been growing anticipation and interest in their latest release.
Using their film experience, the band released an award-winning virtual reality version of their saintmotelvisionalbum and then followed that up with an augmented reality version, both of which were firsts of their kind.
This is a direction that I expect to see increasingly explored by other bands in the near future.