Reviewed by Ian Phillips.
By Jessica Mauboy, Sony Music 2019.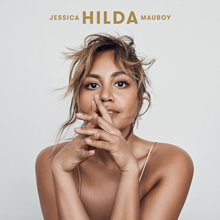 Jessica Mauboyis a remarkably talented young woman.
She's not only one of Australia's premier recording artists but she's also a superbly talented actor and a shining light and role model for our indigenous brothers and sisters.
Her list of achievements is remarkable. She's amassed five Top 10 albums, 15 Top 20 singles, four ARIA-accredited Platinum selling albums, two ARIA Music awards (she's been nominated 26 times).
She's performed for Barack Obama, Oprah Winfrey and Ellen DeGeneres and represented Australia at the Eurovision Song Contest.
When you add to this her film and TV credits you get some idea of the incredible impact she has had on our nation in the relatively short span of her career to date.
Hildais her fourth studio album – the first one in the six years since the release of Beautiful in 2013 – and it continues her creative trademark of producing extremely personal albums.
Hildawas the name of a much-loved aunt and the album's content is mostly about family; the family we are born into and the family we choose.
The songs explore the little things like the quiet moments on a Sunday afternoon, private thoughts alone in a taxi, 3am reflections, little rejections and disappointments, small heartbreaks, etc.
But ultimately the songs are about hope and thanks and also about the spirit that amounts to and shapes who we are as individuals.
Jessica comments that: "In a way all these songs are about me learning more about myself and how to stay kind and loving and respectful. The biggest part of this has been accepting when I put something out there, it is worth it."
The lead single from the album, Little Things,has enjoyed an extended run in the Top 10 and taken out a mortgage on the number one spot in the Indigenous Music Chart.
The 14 songs on this album present Jessica as not only a talented singer but also a wonderful songwriter. They are beautifully crafted examples of pop that cover the broad range of styles encompassed within this genre.
There is no doubt that Hildawill follow the path of her previous albums to the top of the charts.