Reviewed by Ian Phillips.
By Hollywood Vampires, earMUSIC/Sony Music 2019.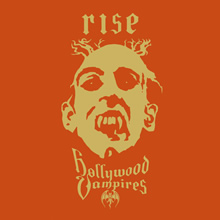 The title Supergroup is far too freely awarded these days but in the case of The Hollywood Vampires it's totally applicable.
The Hollywood Vampires are comprised of Johnny Depp, Alice Cooper and Joe Perry and Rise is their second release.
Unlike their 2015 self-titled debut, Rise consists mainly of new material written by the band.
But in keeping with the tradition set by their first album there are three covers of songs by people who died far too young including the aptly titled People Who Died from the Jim Carrol Band, David Bowie's Heroes, and Johnny Thunder's You Can't Put Your Arms Around A Memory.
The overall groove to the album is unapologetic and raucous rock, which considering the personnel, shouldn't come as a surprise.
Songs like The Boogieman Surprise and Who's Laughing Now capture the raw fun and celebratory attitude of the band and the unmistakable chemistry engendered amongst the friends.
They are having a ball!
The release of the latest single, Bowie's Heroes, marks the debut television performance of Johnny Depp as lead vocalist. You can view a clip of the song performed live on the outdoor stage at Jimmy Kimmel Live at this PS News link (with sound!).
The album has been produced by Tommy Henriksen who has also contributed his performance and songwriting talents to the disc.
His approach to recording has been to capture the natural energy of the live performances of The Vampires and to allow every member to express his own personality on the finished product.
One thing's for sure, Hollywood Vampires is not a Joe Perry or Alice Cooper side project.
Alice Cooper says of the album; "Each of us, Joe, Johnny, Tommy, and myself have written the songs on this album. What is different though is that I didn't try to change any of the songs to be more Alice like because each of us has different influences and the sound of this album is very cool."
Depp's version of Heroes is remarkably good and very true to the original.