By Christine Salins.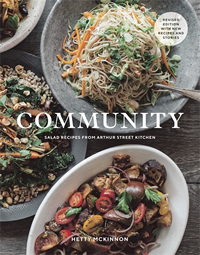 Baking and desserts, lovely fresh produce and plant-based dishes feature prominently in a feast of cookbooks that are perfect for Christmas gift giving.
The Little Library Year (HarperCollins, $39.99) has been described as "the best present a food-obsessed bookworm could ask for" and I'm inclined to agree. I loved Kate Young's first book, The Little Library Cookbook, a few years ago and now she returns with a book about eating and reading through the seasons. The Little Library Year takes us through 12 months in Young's kitchen. Beautifully photographed, it is full of delicious seasonal recipes, menus and reading recommendations.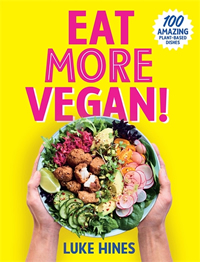 For your tastiest ever summer and festive season, turn to Top 100 Taste Summer Fresh (HarperCollins, $34.99). This is the first in a series from taste.com.au, Australia's most popular food site reaching more than five million people a month. It covers everything from easy dinners to brilliant brunches, salads and desserts, as well as some impressive festive recipes and ideas for dishes to share.
Hetty McKinnon's Community became an instant classic on its release in 2014 and its word-of-mouth success has taken on a life of its own. Of all McKinnon's books, this is the one she hears about most from readers, who frequently share with her just how much the book means to them.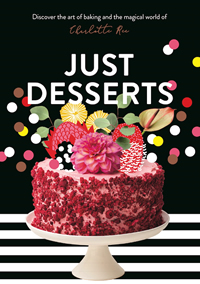 In a beautiful new edition of Community (Plum, $39.99), McKinnon shares some of those readers' stories along with around 20 new recipes such as Roasted sweet potato with lime cashew cream and roasted curry cashews; and Whole roasted cauliflower with toasted farro and romesco sauce. McKinnon injects colour, life and flair into everyday vegetables, and her recipes are for simple but generous plant-based dishes that you will want to make every night of the week.
Plant-based recipes also have a starring role in Eat More Vegan (Plum, $39.99), written by My Kitchen Rules finalist Luke Hines who has a contagiously positive energy and a holistic approach that nourishes from the inside out. His recipes are packed with flavour, full of vibrant colour and nutrition, from zingy breakfasts to salads, soups, sautés and more substantial roasts, bakes and barbecued dishes.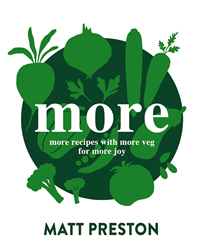 There are more recipes with more veg for more joy in Matt Preston's More (Plum, $39.99). All the recipes are vegetarian or vegan, although if you decide you'd like to add a little bacon or a slab of fish, no-one is going to wag a finger (Preston has even included a separate cooking guide for meaty add-ons). More celebrates the pure, unadulterated pleasure of food.
Colourful vegan cakes, cookies, tarts and other epic delights feature in Incredible Plant-Based Desserts (Murdoch Books, $39.99), by Canberra instagrammer Anthea Cheng (@rainbownourishments) Her show-stopping vegan sweet treats include playful spins on classic desserts, indulgent dishes and some wholesome choices, easy recipes for when life gets busy, and plenty of options for people wanting to avoid gluten, refined sugar, nuts and other common allergens.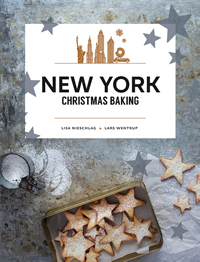 Charlotte Ree, another avid baker and Instagrammer, invites us into her world with Just Desserts (Plum, $29.99). Famous for her simple and delicious sweets, her user-friendly creations are designed to taste amazing rather than just look pretty (though pretty they most certainly are). Just Desserts showcases her most popular and delicious cake, biscuit, slice and dessert recipes beautifully packaged in a gorgeous little book.
For cooks wanting to create baked goods that are more involved, Fairytale Baking (Murdoch Books, $39.99) could be the stuff of their dreams. Christin Geweke lives in the German countryside. Her recipes and stories take you through fairytale forests and magical bakes such as mini gingerbread kuglofs, marzipan chocolate rolls, dreamy peach rose cups and forest berry icecream cake. Lose yourself in the book's fairytales while you wait for your goodies to come out of the oven.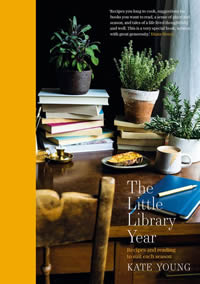 Christmas in New York is a dream, with Central Park covered in snow, Manhattan dressed for the festive season, and the chance to indulge in world-famous delicacies. In New York Christmas Baking (Murdoch Books, $35), Lisa Nieschlag and Lars Wentrup present enticing recipes for cakes, cookies and treats for the most beautiful time of the year, including this recipe for a New York cheesecake infused with the flavours of Christmas.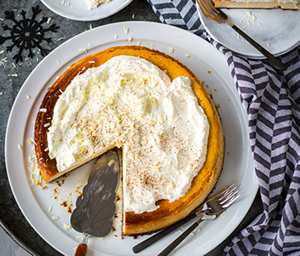 Eggnog Cheesecake
Makes one 23cm cake
160g shortbread biscuits
80g butter, melted
2 tbsp brown sugar
¼ tsp ground cinnamon
For the filling:
900g cream cheese, at room temperature
250g creme fraiche, at room temperature
25g butter, softened
200g raw sugar
2 tbsp cornflour
1½ tsp freshly grated nutmeg
1 tsp ground cinnamon
3 tbsp dark rum
2 tbsp cognac
4 eggs
2 egg yolks
Also:
200ml single (pure) cream
1 tbsp icing sugar, to taste
A little freshly grated nutmeg and ground cinnamon
25g white chocolate
Preheat the oven to 180°C and line the outside of a 23cm spring-form cake tin with two layers of foil to prevent any batter from escaping. Finely crush the biscuits and combine with the melted butter, brown sugar and cinnamon in a bowl. Press firmly onto the base of the tin and bake for 10 minutes. Remove from the oven and set aside to cool.
For the filling, beat the cream cheese in a bowl until fluffy, then stir in the creme fraiche and butter. Add the sugar, cornflour, nutmeg and cinnamon. Stir in the rum and cognac. Finally, add the eggs and egg yolks, one at a time. Pour the mixture over the base and place the spring-form tin inside a roasting tin. Add enough boiling water to come 2.5cm up the side of the spring-form tin.
Bake the cheesecake for 45 minutes, then reduce the oven to 160°C and continue baking for another 25 minutes. The cheesecake should not be fully set yet. Turn off the oven and leave the cheesecake inside to cool for 1 hour, keeping the oven door slightly ajar. Remove the cheesecake from the oven, take off the foil and set in its tin to cool completely on a wire rack. Cover with foil and refrigerate for at least 4 hours, ideally overnight, before removing the cheesecake from the tin.
Whip the cream until stiff, sweeten with icing sugar and spread on top of the cheesecake. Dust with nutmeg and cinnamon and grate the white chocolate over the top.
Recipe and image from New York Christmas Baking, by Lisa Nieschlag and Lars Wentrup, published by Murdoch Books, $35.