By Christine Salins.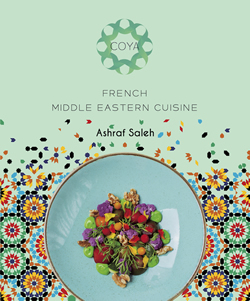 Many of the dishes in Coya: French, Middle Eastern Cuisine(New Holland Publishers, $39.99) are like works of art yet they are remarkably easy to prepare at home.
Chef Ashraf Saleh says all the recipes in the book are ones he uses in his Sydney restaurant, Coya, in the Northern Beaches suburb of Cromer. He uses the same recipes at home, perhaps just presented and plated differently.
"They are simple, easy and can be enjoyed anytime, anywhere," says Saleh, who grew up in the Middle East and worked in hotels in Europe before coming to Australia.
Coya, the restaurant and the book, is a celebration of the "Middle Eastern fusion" style of cooking he has perfected over the years. It combines the techniques, spices and ingredients that make Middle Eastern, French and modern cooking so popular. "It's about reinventing classics with my personal interpretation," he says in the book's introduction.
Saleh began his career in the late 1970s at the Sheraton Hotel in Saudi Arabia, before refining his culinary expertise in Paris, London and Sweden. In 1988, he joined the ANA hotel chain, where he continued to perfect his skills.
Drawing inspiration from around the globe, Coya caters to, in his own words, the "adventurous foodie".  Bursting with flavours and looking like works of art are dishes like the strikingly beautiful Vegetable tartare with purple cauliflower and blobs of avocado "gel", and Spiced Grilled Octopus curled on a plate with blobs of black garlic puree.
Yet even the most amateur cook could accomplish these and other recipes like the popular Lollipop Chicken (little chicken meatballs); Cauliflower soup with crab croquettes; Scallops, pork belly and mango salsa; and this delicious Soft shell crab with chili tomato jam.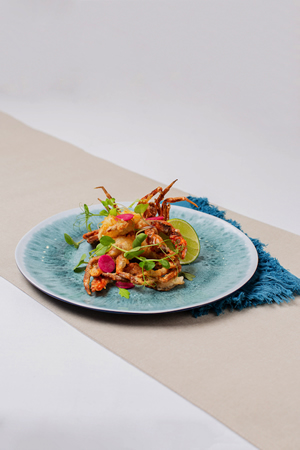 Soft Shell Crab With Chili Tomato Jam
Serves 4
8 soft shell crabs, cleaned and gutted
100 g (3 ½ oz) cornflour (cornstarch)
1 litre (35 fl oz/4 cups) oil, for frying salt and pepper, to season
Batter:
300 ml (10 ½ fl oz) soda water (club soda)
120 g (4 oz) self-raising (self-rising) flour
Vegetable ribbon salad
1 telegraph (long) cucumber
1 daikon radish
1 yellow carrot
1 purple carrot
Chili tomato jam:
300 ml (10 ½ fl oz) red wine
200 g (7 oz) brown sugar
2 bird's eye chilies, chopped
500 ml (17 fl oz/2 cups) lemon juice
3 cinnamon sticks
800 g (1 lb 12 oz) tinned peeled tomatoes, drained
To make the chili tomato jam, add the wine, brown sugar, chilies, lemon juice and cinnamon to a saucepan. Bring to the boil and cook until reduced by half. Reduce the heat, add the tomatoes and continue to cook until further reduced and a jammy consistency is reached. Allow to cool.
To make the vegetable ribbon salad, peel the vegetables into long ribbons using a peeler or mandolin. Soak in ice-water until required.
To make the batter, whisk the flour and soda water together until smooth. Dust the cleaned and dried crab with cornflour and salt and pepper. Dip each crab in the batter and place into the deep fryer separately (do not overcrowd the pan). Cook at 180°C (350ºF) until golden, then drain on paper towel. To serve, place the crab on top of the ribbon salad. Add the chili jam in a small ramekin on the side.
From: Coya: French, Middle Eastern Cuisine, by Ashraf Saleh, New Holland Publishers RRP $39.99.