Reviewed by Victor Rebikoff.
Director: Bill Condon, New Line Cinema & Warner Bros, MA 109 Minutes.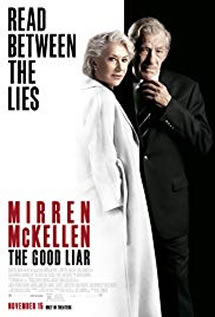 In their first-ever collaboration, legendary actors Helen Mirren (TV's 'Catherine the Great') and Ian McKellan ('Mr. Holmes') are sensational in 'Dreamgirls' director Bill Condon's captivating and intriguing crime thriller with the apt catchphrase of "read between the lies".
The story starts off with two seniors, Betty McLeish (Mirren) and Roy Courtnay (McKellan) using a dating service to arrange a blind date before agreeing to meet at a stylish restaurant, unaware of each other's real motives.
Under the pretext of injuring his knee, Roy – a conman – reluctantly leaves the dinner to rush to a men's club where he joins Vincent (Jim Carter of 'Downtown Abbey') and fellow co-conspirators to instigate a financial scam against some Russians.
When Roy's knee flares up again, Betty suggests he stay at her splendid new home – much to the disapproval of her skeptical grandson, Stephen (Russell Tovey of 'Mindhorn') who is suspicious of Roy's true intentions.
Stephen's suspicions gain traction after Roy accompanies Betty on a holiday to Berlin, where aspects of his past are revealed through flashbacks.
But this does not stop Betty from initially agreeing to live with Roy – even consolidating their savings.
Their cat and mouse game begins to crumble following a series of twists and turns which shows – in some flashbacks, again – a terrible incident taking place between Roy and Betty when they were teenagers during wartime Germany.
It soon becomes clear that Roy has made a big mistake in attempting to scam Betty, requiring all his wits if he is to survive against an avenging widow intent on turning the tables.
Condon's clever script is based on Nicholas Searle's novel of the same name and, despite a convoluted plot, is still highly enjoyable due to a thrilling storyline that is engrossing from start to finish – particularly its surprising conclusion.
The movie's major highlight is the superb performance of Mirren as the meek widow Betty and McKellan as the conniving conman.
The message in 'The Good Liar' is that there are lessons to be learnt for liars.
Vic's Verdict: 3 ½ Stars