Reviewed by Victor Rebikoff.
Director: Rian Johnson, Lionsgate, M 130 Minutes.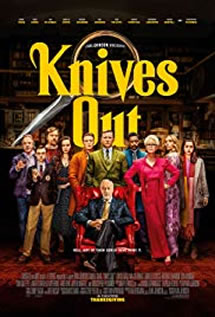 Acclaimed writer/director Rian Johnson ('Star Wars – The Last Jedi') has crafted an entertaining crime thriller comparable to an Agatha Christie-styled murder mystery, complete with colourful characters and a series of twists and turns, before reaching a surprising conclusion.
The story is set in the expansive home of celebrated crime novelist Harlan Thrombey (Christopher Plummer of 'The Exception') who has been found dead by his housekeeper Fran (Edi Patterson of TV's 'Vice Principals') following his 85th birthday party celebration with his dysfunctional family.
The police, led by Lieutenant Elliott (LaKeith Standfield of 'Death Note'), are immediately called in – accompanied by the mysterious private detective Benoit Blanc (Daniel Craig aka James Bond) – to interrogate each of the family members.
They begin with Harlan's daughter Linda (Jaime Lee Curtis of 'Halloween') and her deceitful husband, Richard (Don Johnson of 'Book Club') followed by son, Walt (Michael Shannon of '12 Strong'). Walt was the head of his father's publishing company, but was sacked by Harlan during the fateful birthday celebration.
Then there is Harlan's greedy daughter-in-law Joni (Aussie Toni Collette of 'Madame') and his contemptible grandson, Ransom (Chris Evans aka Captain America) who, upon learning that he is not in Harlan's will, apparently stormed out during the party.
Finally, we come to Harlan's devoted caretaker, Marta Cabrera (Ana de Armis of 'Overdrive') – the daughter of an illegal immigrant family – who administered him his nightly medication once the party had concluded, later discovering that someone had replaced his medication with a lethal mix.
Despite each person having a motive to murder the family patriarch, the critical moment arrives with the reappearance of Ransom at the reading of the will and the shock announcement that Marta is the sole beneficiary of Harlan's estate.
It is at this point that Blanc makes his move, taking on the characteristic style of Colombo as he puts together each piece of the puzzle, knowing that now is the time to reveal the killer's name.
Johnson's enthralling whodunit has all the intriguing ingredients of an Agatha Christie murder mystery in addition to an entertaining, eclectic cast comprising of Craig, Curtis, de Armas, Evans, Plummer and Shannon.
Besides Johnson's thrilling storyline, there are enjoyable performances from Craig – with a Southern accent – as the suave-talking detective and the legendary Plummer as the astute patriarch of a dysfunctional family.
This is a movie that should not be missed.
Vic's Verdict: 4 Stars