Reviewed by Victor Rebikoff.
Director: Joachim Ronning, Pinewood Studios, PG 119 Minutes.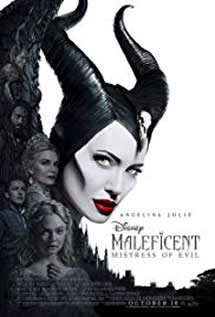 Angelina Jolie reprises her roleas Maleficent, the malevolent mistress of evil in a satisfying sequel to the successful 2014 family fantasy, but this time from a different director – namely the Norwegian filmmaker of 'Kon-Tiki'Joachim Ronning.
Following on from the previous movie, Princess Aurora (Elle Fanning) – now the Queen of the Moors – astounds Maleficent with her decision to marry Prince Philip (Harris Dickinson of 'Darkest Minds') much to her godmother's displeasure.
Having been convinced by her trusted servant Diaval (Sam Riley) to attend a lavish reception at the castle for Aurora and Philip – provided she hides her horns – it doesn't take too long for Maleficent to lose her temper following remarks from King John (Robert Lindsay of TV's 'Plebs') and Queen Ingrith (Michelle Pfeiffer of 'Mother!')causing Maleficent to head skyward before being shot-down on the orders of the White Queen.
Maleficent is then surprised to be rescued by winged warrior Conall (Chiwetel Ejiofor of 'DrStrange'), while King John lies in a coma from a curse supposedly cast by Aurora's godmother in retaliation for her treatment by Philip's parents.
Befriended by Conall and the tribe of winger warriors, including the warlike Borra (Ed Skrein of 'Deadpool'), Maleficent is now urged to join them in waging war against the cruel and calculating Ingrith while the King is incapacitated.
Ronning's take on the Sleeping Beauty fairytale appears to falter at times as a result of the fanciful storyline, in spite of it being slightly more appealing than the original.
The redeeming feature in Ronning's rendition are the enjoyable performances from Hollywood heavyweights Jolie and that of the feisty Pfeiffer, with both women striving to outwit each other in order to become the supreme anti-heroine.
Vic's Verdict: 3 Stars