---
Carolyn Tastad and Deanna Bass* say taking the focus off women in gender equality efforts will lead to greater success.
---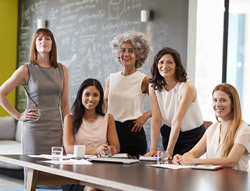 The data are clear: an equal world is a better world for all of us.
When equality grows, communities are healthier, businesses are stronger, economies rise — and the world is a better place for everyone.
But today's approaches to gender equality are still largely ineffective.
The latest World Economic Forum Gender Gap Report now estimates it will take a staggering 257 years to close the gap on economic participation for women — compared with 202 years in last year's report.
Unfortunately, this is no surprise.
Bias, often in the form of false narratives about women, continues to be ingrained in our workplaces, our policies and our talent discussions about women and how to fill senior roles.
Despite all evidence to the contrary, too many people in power still believe myths like women lack ambition, lack confidence, must carry more of the load at home, are opting out of big roles and that there aren't enough women in the pipeline to increase representation in the C-suite.
Leaders at the top of our organisations — men and women — along with HR managers, consultants and even self-proclaimed gender-equality advocates continue to reinforce these outdated and disproven notions.
Not only are these narratives just plain wrong, they cause us to focus on fixing the women rather than fixing the systems and norms that perpetuate the global gender gap.
We continue to pigeonhole gender equality as a women's issue.
What if we acknowledged that gender inequality needs to be fixed, but the women don't need to be?
This mindset shift changes everything.
At Proctor & Gamble, we take the approach that gender equality is a business opportunity — and thinking about it this way has changed the trajectory of our work, our representation and our results.
Most corporate leaders and decision-makers believe they are already addressing gender equality.
But bias — both conscious and unconscious — gets in the way.
And the result is a blind spot.
As leaders and decision-makers, we only see part of the picture instead of the total landscape.
This limits the way we act, react, believe and behave.
It limits our effectiveness.
In the case of gender equality, we need to check our blind spots so we can see the total picture.
That's the only way we'll stop going backwards and start making forward progress.
Let's take workplace policies, as one example.
Many employers have taken steps to improve maternity leave.
And yet, the workplace gender gap continues to grow.
Why?
Because maternity leave is a career inflection point that uniquely affects women.
What if workplaces developed policies and programs that support women as mothers and men as fathers, with sufficient paid maternity and paternity leave?
As more men experience the process of taking leave — securing manager approval, creating coverage plans and navigating re-entry after time away — workplace processes will improve for everyone, and more managers will be more empathetic to the needs of expectant parents.
And then there's pay equality.
Over the past few years, several big organisations have been heralded for identifying and fixing pay gaps between women and men in the same roles.
One could argue whether fixing a problem that shouldn't have existed in the first place deserves celebration, but regardless, this is only the first step.
What if — instead of being satisfied with fixing pay inequality — big organisations made fair pay the minimum standard, and income equality the new priority?
The Gender Gap Report describes the difference between the wage gap and the income gap.
The wage gap is the gap between how women and men are paid in similar positions.
This is easy to spot and easy to fix in organisations that are committed to fair pay.
The income gap is the difference in total wages earned by women versus men.
When more men than women hold more senior roles in an organisation, there's an income gap.
The only way to address this is to achieve 50/50 representation at every level of the organisation, including the C-suite.
Getting to 50/50 requires intentional, long-term talent planning at every level, including targets or quotas.
But here, too, the typical approach of setting targets only for women is too narrow.
We must tackle the numerator and the denominator by declaring hiring targets and representation quotas for women and for men.
Our talent plans must encompass our total talent pool — not just a piece of it.
As world leaders internalise the stark realities in the Gender Gap Report, and as we look within our own organisations, we need every individual, every CEO and every leader to check their blind spots and embrace a broader set of steps required to close the gender gap.
It's time to acknowledge that gender inequality must be fixed — but women don't need to be.
As counterintuitive as it may seem, taking the focus off women allows us to search more broadly for solutions and take a holistic approach.
When we eliminate our blind spots, a bigger picture comes into view — of the systems, norms, cultures and biases that must be addressed before our workplaces and world can see equal.
* Carolyn Tastad is Group President, North America, and Chief Sales Officer and Deanna Bass is Director of Global Diversity and Inclusion at Procter & Gamble.
This article first appeared at www.weforum.org/agenda.