---
Valerie Bolden-Barrett* says a study shows public recognition has a significant impact on women's advancement into leadership positions.
---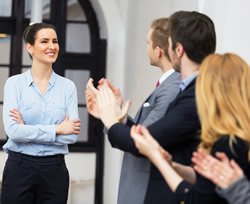 Women are more likely to want to lead when their achievements are publicly recognised, according to a recent Science Daily report on research by University of Exeter Business School Senior Lecturer Jingnan Chen.
This finding held true even when women work in male-dominated industries.
The report also revealed that in typically male-dominant industries, women in both mixed and single gender groups were twice as likely to avoid taking on leadership roles.
The same was true for men in industries described as female dominant, but that was only true if they were in mixed gender groups.
In recognising women's abilities, Chen recommended that employers point out their accomplishments using quantitative measures, such as the number of projects completed or sales figures attained.
In Chen's research, recognition proved to have a significant impact on women's advancement into leadership positions.
But recognition programs — whether formal or informal — may have lost some of their lustre, according to a survey by WorldatWork and Maritz Motivation.
The poll showed that the number of employers with deeply entrenched recognition initiatives increased, but, at the same time, the number of workplaces with no recognition programs also increased.
What's more, only half the senior managers polled said they thought recognition was a worthwhile investment.
Considering Chen's findings, employers that devalue recognition may want to rethink their position when they consider the impact on workers and the relatively low cost of recognition programs.
Failing to recognise employee achievements has costly consequences for employers.
In the case of the women described in Chen's research, employers stand to lose out on their leadership potential.
For workers in general, ignoring their accomplishments can foster high turnover rates.
Another problem can occur when managers not only avoid giving workers their just due, but also get employee evaluations wrong.
Research from Reflektive found that 85 per cent of professionals said they would quit their job behind an evaluation that was false, biased or led to their being passed over for a promotion.
Employers also want to keep in mind the growing trend toward more frequent, real-time, face-to-face performance evaluations among employees that focus on performance improvement, versus the traditional annual meetings focused on past performance.
* Valerie Bolden-Barrett is a business writer and content specialist and contributor to HR Dive.
This article first appeared at www.hrdive.com.