In what might be the biggest shake-up of the New Zealand Public Service in the nation's history, the Government says it wants to dismantle the entire state sector and start again in an attempt to have a "unified bureaucracy".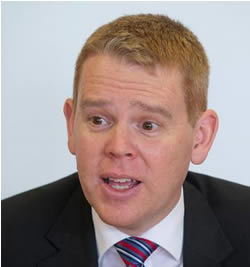 The move is linked with the Government's wellbeing approach and aims to make dealing with issues such as reducing child poverty, mental health services, domestic violence and climate change easier, with results provided faster.
The overhaul would see Agencies move away from the individual Department structure, with PS staff working across a number of them, as required.
Ministries would still be held accountable for day-to-day work, but bigger issues and Government priorities might require joint ventures that would have their own staff, funding and assets.
The State Sector Act, the law under which the Public Service operates, would be repealed and replaced with a new Public Service Act.
Minister for State Services, Chris Hipkins (pictured) announced the shock move, saying the Public Service needed to be adaptive and responsive to the changing needs of citizens, who did not live their lives in neat compartments.
"The shift to a single unified Public Service approach will make it easier to tackle the biggest challenges, and quicker," Mr Hipkins said.
"The streamlining will see less bouncing around between different Agencies for Kiwis needing to access frontline services."
He said New Zealanders expected to engage with Government Agencies and to access services in different ways and fast.
He used the SmartStart scheme as an example of how it would work.
It was one place where parents went for step-by-step information to help them and their baby after the child was born.
"That's the key — one place where citizens get everything they need and are not having to run around from one Agency to another," Mr Hipkins said.
"Under the current model, setting up cross-Agency collaboration is ad hoc and messy."
He said there were no clear lines of accountability and often no dedicated funding, which limited outcomes.
The changes follow a consultation process that started in September 2018 and examined the 30-year-old model, which saw the accountability of a single Department lie with one Chief Executive and a single Minister.
Mr Hipkins said the Public Service was now operating in a fast-changing and unpredictable context and, when it came to big challenges, it didn't work anymore to put a single Agency on the job.
He said a Public Service Bill would be drafted and introduced to Parliament in the second half of the year.
Wellington, 27 June 2019